Happy Holidays 2011 to Emmett Till From the Cotton Rebel Era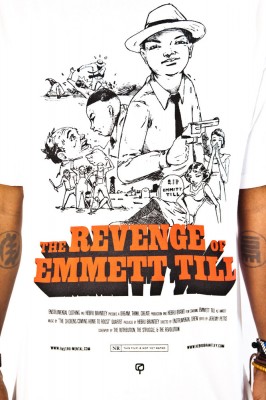 In the midst of my mindless consumption yesterday, I found the infamous Emmett Till on a clothing rack! Leaders 1354, Chicago's local boutique that serves Hip-Hop hipsters, was selling the last of its Enstrumental feature. Ensturmental produced a shirt called, "The Revenge of Emmett Till", this season, that definitely aroused a revolutionary spirit in me. It still amazes me that within seemingly superficial spaces lurk the rebellious expressions of resistance.  The US Justice system and American racism left the unsettled disturbance of Till's death to the cotton rebel era—a tribe of creative people that articulate a fashionable imagination devoted to changing the social inequities.
Unfortunately, I went home without the most provocative shirt I've ever seen in my life. They didn't have my size. And of course, boutiques don't sell the same thing twice; so I scrambled for it online where I saw the same teaching mechanism that other cotton rebel sites use, like Tano. Enstrumental expects its buyers to know the history of Emmett Till, but not just the standard American History edition.  In the description of the shirt are factual statements about the murder of Till, along with commentary that reflects a Black consciousness that takes no BS. For instance, the creators of the shirt resent the "justice" of Till's murder: "Neither of them thought of themselves as guilty or that they had done anything wrong. Bullsh*t".
These cotton giants use art with a subtext effectively. The necessarily skeptical tone of the product description clarifies underlying message of the shirt. Anger about the acquittal and nonchalance of Till's murderers informs the design—emphasizing revenge and Black cinema— and expression. Seeing Emmett Til come back from the dead to enforce repercussions for racism would be thrilling. Regardless of the absence of this particular type of cinema, wearing such a shirt impacts the perception of the person that wears it. By wearing the shirt we reveal the alliance of pissed off people of color looking to be up to something…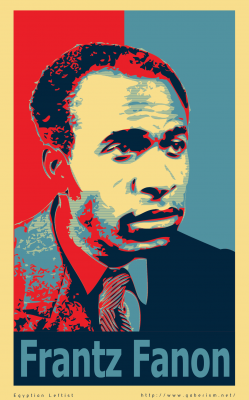 Shout out to Frantz Fanon
Read Black Skin White Masks