How the Public School System is Failing America
With my ongoing addiction to political documentaries, I watched "Waiting for Superman" on Monday night. While I realize I'm a little late in reviewing the movie, (it released in September of 2010), I can't help but spread the knowledge I gained from the eye-opening film. As an English major and Political Science minor, my main focus in making a difference in Chicago and eventually the nation is on education. I am always amazed and saddened by the new information I learn about America's failing public school system and this documentary was no exception. Even as a writer I am at a loss for words as to how important the issues presented in the documentary are to the future of our nation – and even more speechless to how America's education system has landed where it is today.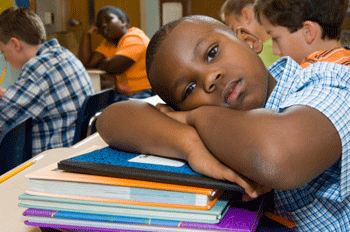 The film follows the lives of several young Americans with big dreams and the potential to become great… as long as the American school system doesn't fail them. The unfortunate reality for these children is that the public middle and high schools they are eligible to attend by district lines do not adequately prepare them for college and life careers. The schools that yield high graduation rates and high college acceptance rates are often overflowing with applicants and are required by law to have a random, public drawing to determine accepted students.
Dr. Robert Balfanz of John Hopkins University calls schools where over 40% of students don't graduate on time, "drop out factories". He found a pattern across the US in both cities and suburbs of failing elementary and middle schools that feed into failing high schools in which students enroll for 1 or 2 years. Balfanz found over 2,000 "drop out factories" in the United States. At Locke High School in Los Angeles, they often start with 1200 freshman and end up with 300-400 sophomores. In this school and in so many others in the US, students enter with the mentality that failure is almost expected and academic success is of the least social importance.
The documentary examines that once, America acted as a global "pioneer for education". Now, America is ranked 20th in graduation rates among developed countries. People don't realize how much our nation's economic success depends upon the success of our education system. I always thought it was corny to say, "children are the future of the world", but let's face it: they are. They are the next doctors, engineers and teachers who will compete nationally and globally for the success of America.
In America, a student drops out of high school every 26 seconds – thats 1.2 million drop outs a year.  According to the Public Service Announcement released with the documentary, these students who drop out are 8x more likely to go to prison than those who graduate high school, they are 50% less likely to vote, are not eligible for 90% of new jobs and are being paid 40 cents to the $1 of a college graduate.
In the Occupy Wall Street movement and across the country, unemployment has taken center stage as an issue needing aid. In my opinion, the key to the future of America's success lies in the educational system. In such a technologically driven world, companies are in search of certain candidates they can't seem to find from the crops of students produced in America. Against 30 developed countries, American students ranked 25th in math and 21st in science. Even the top 5% of American students ranked 23rd out of 29 of  developed countries. Without great domestic innovators, America is forced to find specialized workers in science and math from other countries. Of the 120,000,000 jobs that will require a higher education in the next 20 years, only 50,000,000 Americans will be qualified ("Waiting for Superman"). To me, the solution to reducing unemployment and raising the national income average seems simple – better equip American students with the skills in math and science, making them competitive in the global market. I understand that every single American job will not be filled by American born people, nor am I advocating that we culturally homogenize our companies, but, if Americans aren't competitive in our own marketplace, we clearly have a problem!
Children are caught in the web created by local, state, and federal governments, school boards, teachers and teachers unions. Even on the surface of the issue my brain hurts from thinking about what needs to be done in order for American students to be successful and live above the poverty line… try explaining to a 3rd grader that they need to be focused – that their success and the success of other 8 year olds is imperative for America's success.
If you haven't already, watch the documentary film "Waiting for Superman", which is available for instant watch on Netflix. I have so much more to say on the documentary and would love to hear from anyone who has seen the film or has an interest in the issues raised.