Is Rihanna Getting Back Together with Chris Brown?!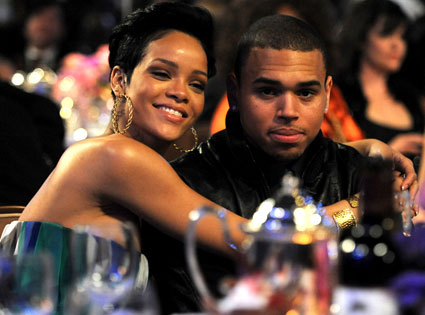 This has to be some kind of joke.
The big rumor currently running rampant across the internets is that Chris Brown and Rihanna have secretly reconciled.
Now, there's been whispers regarding an ill-conceieved reconciliation between these two for years now; but the evidence is seriously starting to mount.
First there was the news (way back in May) that RiRi had begun following Brown on twitter. Innocent enough, right?
Well, yesterday Breezy randomly tweeted "Love U More than You Know!," to which RiRi seemingly replied, just a minute later, "i'll always love U #1LOVE"
And that's not all. Even Chris Brown's mom has gotten in on the action.
"Even Breezy's mother, Joyce Hawkins, reportedly wants the two to rekindle the flame. Earlier this month, she tweeted a message to a mysterious women, saying "HELLO LADY I MISS YOU AND LOVE YOU!!!!!! YOU KNOW WHO YOU ARE!!!!!" Shortly afterward, Rihanna tweeted "Miss+Love u 2.'"
Obviously, Rihanna's personal life is her business. But she's taking a huge risk rekindling a relationship that was abusive and violent; not to mention one that will generate an unbelievable amount of media scrutiny and attention.
And this is a very, very bad example to set for her fans. It's just not  a good idea to  get back into an abusive relationship, under any circumstances.
So let's hope those were just a few innocent, harmless tweets between friends, shall we?
What do you think?
Is Rihanna getting back together with Chris Brown?
Should she?
Sound off below!