Taking Control of Our Own Image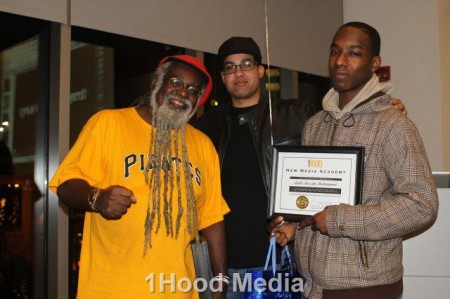 Paradise Gray and Jasiri X with New Media All Star Zafir Muhammad
This Thursday in Pittsburgh we had an incredible celebration, panel and concert as we commemorated the completion of our New Media Academy held in conjunction with the August Wilson Center and Heinz Endowments. We recognized our New Media All Starts who completed the classes with a certificate and some cash money, and we hosted a panel with them speaking on their perception of the media and more importantly how they can take control of it.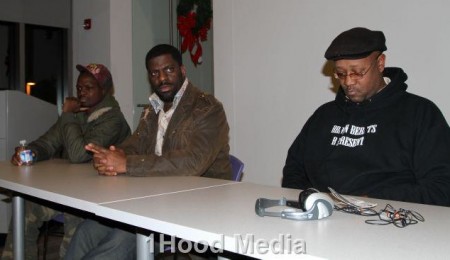 Wise Intelligent, Che "Rhymefest" Smith, and Davey D (Photo by Paradise Gray)
Malik Rhasaan, Jesse Muhammad, and Bakari Kitwana (Photo by Paradise Gray)
After the youth panel we had a hall a fame line up of new media moguls including Hip-Hop journalist Davey D, Wise Intelligent of the legendary rap group Poor Righteous Teachers, renown author and educator Bakari Kitwana, journalist and social media expert Jesse Muhammad, founder of Occupy the Hood Malik Rhasaan and Grammy award winning Hip-Hop artist Che "Rhymefest" Smith.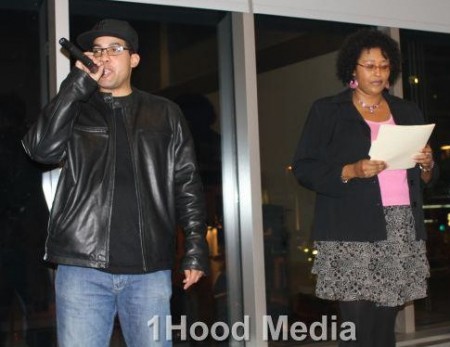 Jasiri X and Dr Goddess (Photo by Paradise Gray)
Myself and Dr. Kimberly "Dr Goddess" Ellis co moderated this amazing panel that broke down our reliance on mainstream media, using social media, and avoiding the trap of reality TV. After the panel we topped the night off with concert featuring the Arts Greenhouse Project, myself, Rhymefest, and Wise Intelligent.  Check out the clip below of Master MC Wise Intelligent spitting machine gun style accapella and his interview with Davey D about his activism in his hometown of Trenton, NJ .