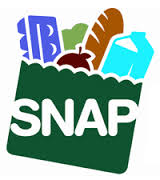 The U.S. food stamp program will be cut by $5 billion this week. The Supplemental Nutrition Assistance Program (SNAP) costs roughly $80 billion a year to run.
SNAP provides aid to 14% of the country's households, which equals about 47 million people.
The government saw a dramatic increase in the number of recipients over the past couple of years due to the recession.
There's a big automatic cut scheduled for Nov. 1, as a temporary boost from the 2009 stimulus bill expires. That change will trim about $5 billion from federal food-stamp spending over the coming year. And that's not all: The number of Americans on food stamps could drop even further in the months ahead, as Congress and various states contemplate further changes to the program.